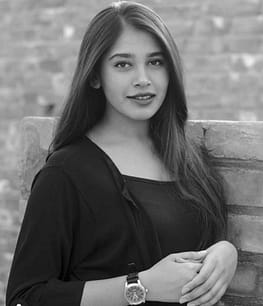 Noor Fatima – Curator
"We are delighted to present to you a-rt uk which is an initiative to promote Artists and Artisans of Pakistan. A-rt uk is proud to highlight conceptual art by providing a plat from to talented and brilliant artists. We strive to promote stunning yet strongly conceptualized art works and promote them worldwide. We are very excited to launch with ten extremely adept artists from all over Pakistan. Each artist has very carefully chosen their respective inspiration and worked their series around that. Their artistic practices are amalgamations of traditions, cultures, society, religious myths and their highly ingenious world of imagination"
Noor graduated from National College of Arts in 2017. She is highly qualified in the field of fine arts and specializes in painting and sculpture. After graduation Noor worked on freelance projects for Lok Virsa Museum, Bahria Town and Hashoo Foundation. After exploring her skills in the field of manual arts Noor started working as an asst. curator at Satrang Gallery, Serena Hotels Islamabad in 2017 – 2018. She co curated the art show called Preserving The Paradigm in 2019. She kept practicing her arts and did various exhibitions in Islamabad, Lahore and Karachi. Alongside, she has vast experience in teaching Arts, production of short films and music videos.
In addition to curating a-rt, currently Noor is also involved in her start-up Lavender Beings, an Islamabad/Rawalpindi based wellness organization which deals with mental awareness. Noor is also working as a consultant for Foundation Art Divvy, which is an effort to expand Pakistani art's global reach, as well as to transform local attitudes towards contemporary art.
Shahjahan Bozdar – Director
A passionate art admirer, Shahjahan has extensive sales and marketing experience. After his marketing MBA from Bahria University in Islamabad in 2004, he embarked on a career in ecommerce and later in hospitality industry, currently Shahjahan works as Director – Hospitality and Art at I XCEL Ltd a venture capital and private equity firm which concentrates on socio economic enterprise creation and capitalism with a conscience.
He has more than 14 years' experience in the field of sales, marketing, hospitality, advertising, promotions, event management, customer services, project management and business development. In his previous roles he has experience handling mega events of multinational companies and international organizations such as the UN departments and embassies/consulates of different countries. He has extensive experience in managing all types of corporate, social and cultural events from conferences and seminars to art exhibitions, showcase events and galas.