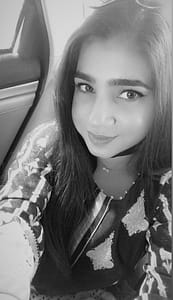 Artist Biography:
Maham Siddiqui was born in Hyderabad sindh. Being a visual artist currently based in Hyderabad, Pakistan. She completed her BFA from the Centre of Excellence in Art and Design, Mehran University of Engineering and Technology, Jamshoro in 2018 where she specialised in painting and received a distinction for her efforts.
Maham has participated in numerous National and International workshops, competitions and group exhibitions throughout her professional career 
Artist Statement:
The major focus of her art practice is 'The facts remain the same while time runs out'. For Maham a written text must be considered a factual document and its validity or accuracy does not hamper its authority. So through her art she focuses on the mundane, bundles of newspapers that contain thousands of such texts and recorded stories that for her hold vast meaning. The image formed via overlapped newspapers stacked on top of one another for Maham holds deep hidden meaning. Her work has been featured in numerous publications such as Nigaah Art Magazine, Weekend Fashion, Somewhere in Pakistan and Daily Sindh Times Hyderabad.   
Maham's artwork is housed within the permanent collection of the Ambiance Boutique Art Hotels.