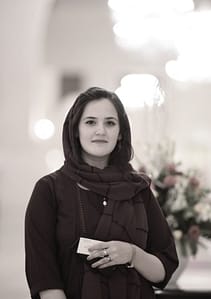 Artist Biography:
Areej Nasir is a Islamabad based artist who recently graduated from National College Of Arts ( NCA) with an honor in Fine Arts majoring in Miniature Painting.
Throughout her studies she has participated and won various art competitions. Her work was exhibited in pnca (2019) during her university days. She also conducted a few workshops at Hunderkada. Currently working with satrang gallery, Serena hotels Islamabad as an assistant curator.
Nasir's work is basically satirical comments based on her experiences living in one society. 
Artist Statement:
"There is no darkness but ignorance"- William Shakespeare
Art comes to me as a form of expression; I like to express the feelings and experiences I get by living in the Asian social order. I am partial to making the viewer think by commenting on what I feel are the errors and realities of society. My work is more about unnoticeable issues in a society's eye that later causes bigger issues and stops society from growing. I think now is the time to move forward and leave such errors behind to regulate the modern world order. I would describe my work as a modern drama with trenchant wit assimilated into a century-old technique of painting. Every other painting is a different commentary on my surroundings.